Archive for October, 2009
Sunday, October 11th, 2009
Eventually the whole backend of this site will be rebuilt, but I got impatient waiting around for money to materialize out of the sky so I could purchase a new hosting account, so I went ahead and updated the blog because if I had to go another day looking at the old setup, it would have been a bad day.
I don't know when this supposed overhaul will occur, although it is all built. Just waiting around for fame and fortune at this point. Twiddling my thumbs.
Posted in updates | Comments Off
Saturday, October 10th, 2009
Been slowing peeling back the layers to peer into the dark depth of game design. After much reading and stumbling around in the dark corners of the internets, I discovered this cute little LUA library or "engine" as they purport called LOVE. Pretty easy to get stuff up and running rather quickly if you know a thing or two about programming. …IF you know a thing or two. But actually wouldn't be such a horrid starting place if you didn't. Never skimp on the bare bones however. They serve well in all applications.
Anyway, you're on a horse and you can ride like the wind (through the wind) back and forth on the screen. Halo 3 it aint, but it's a pleasing foray into a new language and a new realm. A new toy to tinker with in the Winter desolation to come. If you have LOVE (or you don't you can download it here) you can download and take this horse out for a ride.
Posted in Action, Code | Comments Off
Wednesday, October 7th, 2009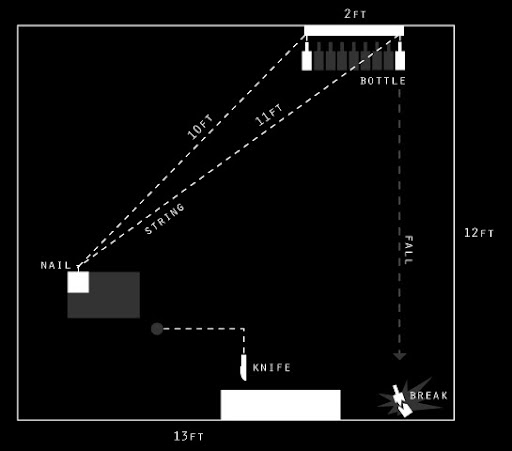 162 bottles were hung with 162 notes inside. A participant would enter the room and take the knife hanging on the wall to cut one of the 162 strings, dropping a bottle and shattering (generally) it on the floor. If the bottle was not broken it would be handed to the participant to dash against the wall. Upon successful breaking I would rifle through the shards and pull out the participant's fortune, silently handing it to them.
photos by Jon Donnell
Posted in Action, Maine, art | Comments Off
Monday, October 5th, 2009
162 x
bottles
slipknots
hooks
nails
messages
broken bottles
12ft lengths of string

Jon Donnell's S&P Photos
Sacred & Profane happens every year at Battery Steel on Peaks Island in Portland, Maine. It is an amazing event that arises out of the community with no fees, no paperwork, no contracts, no applications, no advertising, no marketing, and no shit. An increasingly rare breed of pure events with no commercial or bureaucratic concerns. It makes me fall in love with Portland even more all over again. I am honored to have been a part this year.
More thorough commentary when I can muster it.
Posted in Action, Maine, art | Comments Off